Published: 9/10/2012
Summer Crawl DC information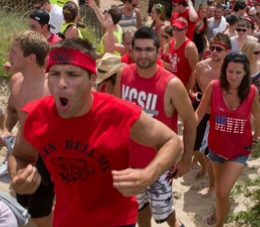 Summer Crawl DC is an end of the summer season themed bar crawl based in Washington D.C. Participants will quench their thirst on exclusive drink deals as they explore D.C. and celebrate the end of the season, one bar at a time.
When: September 22, 2012
Time: 2pm-9pm
Price: $14.99 in advance; $20.00 day of.
*You must be 21 or over to participate.
What you Get: A signature pair of sunglasses, access to the listed bars, and exclusive drinks deals. Enjoy:
$2.00 Miller Lites
$4.00 Bacardi OakHeart
$4.00 Shots
What to bring: Your 21+ ID
What to Wear:
Rock your beach gear one more time before you put it away!
Summer Crawl DC FAQ's
Where do I get my wristband and sunglasses?
Sunglasses and wristband pick up will be at Black Finn. Wristband pickup will be available 1pm-5pm.