What Is A Bar Crawl?
Published: 7/25/2012
What is a bar crawl and how does one work?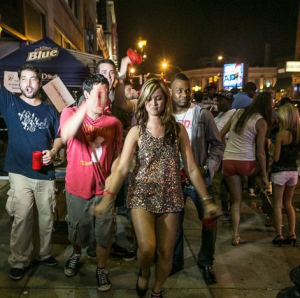 "What is a bar crawl?" is a question we get asked often at Project DC Events. We define "bar crawl" as the act of an individual or group of people drinking at a number of bars in a single day or night, normally walking between them. Dictionaries also defines "bar crawl" as both an noun and a verb:
Bar crawl (noun) – A drinking session that moves from one licensed premises to the next, and so on.
Bar crawl (verb) – To move in a group from one drinking establishment to the next, drinking at each.
Many cities around the world host bar crawls that act as social gatherings for the community and tourists. These crawls focus on the social aspect of meeting new people, being introduced to new bars and clubs in a new city, and to promote the city itself.
Bar crawls around the world – A little bit of history
Famous Bar Crawls in America
Charlotte, North Carolina currently holds the record for the largest bar crawl in history. In 2012, The Saint Patrick's Day Bar Crawl had more than 15,000 participants, almost doubling the previous years'.
Minneapolis, Minnesota's Zombie-themed Bar Crawl was started in 2005, and since then it has become an annual tradition which has grown to over 5,000 participants. During this bar crawl, the participants wear zombie costumes and walk from bar to bar imitating the living dead.
"The Running of the Santas" Bar Crawl in December has made its way into most major US cities. Americans dress up as Santa Claus and venture from bar to bar carrying candy canes and presents.
Famous Bar Crawls overseas
The MADride Pub Crawl in Madrid, is one of the largest in Spain. Locals and tourists meet at the famous landmark Oso y Madron in the center of the city and then go on to discover the Madrid nightlife.
The Glasgow Subway Bar Crawl in Scotland also known as the "Sub Crawl" requires participants to drink from a pub near each of the 15 stations on the circular route. Two similar events are the Circle Line Pub Crawl involving London's Circle Line and the Metro Pub Crawl from Birmingham to Wolverhampton on the Midland Metro.
The Adelaide University Engineering Society (AUES) Bar Crawl holds an annual pub crawl attracting thousands of students from all over South Australia to as many as 27 local pubs and clubs.
How does a bar crawl work?
Every city, events company organizes bar crawls differently, with a different theme, and a different selection of bars. But don't worry, they are all filled with fun, energetic people looking to meet people like you, and get their drink on!
Depending on the bar crawl you choose to participate in, admission may be free, or you may have to buy a ticket. With the ticket you will be given a wristband, or a mug, or a t-shirt (something that makes you stand out and lets the bartenders and bar staff know that you are participating in the bar crawl).
The benefit of participating in a bar crawl where you purchase a ticket is that the organizers have negotiated drink specials with all of the bars who are participating in the crawl, no matter if you are at bar 1 or at bar 3, a beer or a mixed drink will be the same price.
So if you are single, looking to meet a special someone outside of your circle, new in town and looking to meet people, or plainly just want to see what other bars are out there, then checking out a local bar crawl is a must.
Go from What is a Bar Crawl back to the Project DC Events homepage