The 10 Best Arlington Bars Right Now
Published: 8/26/2013
The 10 Best Arlington Bars You Need To Visit
1. Whitlow's
2854 Wilson Blvd.
Clarendon, VA 22201
www.whitlows.com
Neighborhood: Clarendon
Whether it's bull ridin', rooftop chillin' or live music listenin' Whitlow's has it all! An escape from the hectic work week is just a block from the Clarendon metro. Take a mini vacation when you visit Whitlow's roof top tiki bar! Buy a Whitlow's branded beer mug, receive $2 beers on Thursday's, need we say more? What could be better than relaxing on a sunny afternoon surrounded by a great looking and social crowd? The answer: nothing. Head on over to this favorite neighborhood bar for great specials and great company.
Try it: Sunday brunch, complete with Bloody Mary bar? I know, I know we love it too!
2. Clarendon Grill
1101 N. Highland St.
Arlington, VA 22201
www.cgrill.com
Neighborhood: Clarendon
Known for its live entertainment, Clarendon Grill is just steps from the Clarendon metro station. Clarendon Grill brings in great local bands, and DJs to showcase throughout the week. If you get there early enough you can snag the elevated window table which is the ultimate VIP seating for those live music performances or simply for the best people watching in town. If you're in to proving your "hips don't lie," CG hosts salsa dance lessons every Monday. On Wednesdays show off your smarts by competing against other area Einstein's during trivia night!

Try it: If you are a live music lover, make sure you check out Clarendon Grill on weekends.
3. Spider Kelly's
3181 Wilson Boulevard
Arlington, Virginia 22201
www.spiderkellys.com
Neighborhood: Clarendon
This Clarendon hotspot is always buzzing and attracts a more mature and after-work crowd with its low-key vibe. After all its slogan is "come as you are." They have a spectacular flight of brews, great service, mouth-watering grub and games galore! Offering up billiards, shuffleboard, skeeball, hoop toss, darts, and video games; no matter your game, Spider Kelly's says, "bring it on!" Just be sure to get there early to snag a billiards table or one of the lounge areas complete with cozy couches and chairs, perfect for a small party looking to order a round or three of cold ones and a huge basket of fresh hand-cut fries! Yum, Gimme.
Try it: Food! This place doesn't have your usual bar fare, they take it up a notch in freshness and unique twists to classics.
4. Mad Rose Tavern
3100 Clarendon Blvd
Ste PL15
Arlington, VA 22201
www.madrosetavern.com
Neighborhood: Clarendon
On the corner of Clarendon Blvd and Washington you can have it in the front or the back at Mad Rose. People get your mind out of the dirty gutter! No but really, Mad Rose has two bars, two dance floors and two patios!!! Anyone seeing double yet? The back patio is extensive and has open seating! With the electronic music pumping through the speakers it's hard to be a wallflower in this place. Football season is just around the corner and we've heard that Mad Rose may be the new place to be to cheer on your favorite team with the addition of big screen TVs.

Try it: Mad Rose's signature glow-in-the-dark beer towers!
5. World of Beer
901 N Glebe Rd
Ste 105
Arlington, VA 22203
www.wobusa.com
Neighborhood: Ballston
Welcome to your living room, we mean welcome to World of Beer! The casual vibe makes you feel right at home but the beer selection, WAY better than your buddy's fridge. Opening last year in Ballston, this national franchise offers up MASSIVE (so massive we had to write it in caps) selection of brews all in one place. Seriously, they have so many from all over the country (and world!), that the beer snob, the casual beer fan and everyone in between, could be happy in this establishment. But who isn't happy with a cold beer in their hand?
WOB is not just a bar it's an experience, it's a place to grow your knowledge of beers and brewing, it's a place to watch sports or just gather with friends at the tables outside. Pour it up, Pour it up.
6. Wilson Tavern
2403 Wilson Blvd
Arlington, VA 22201
www.wilsontavern.com
Neighborhood: Courthouse
Wilson Tavern is where "just too fun to enjoy alone," they encourage groups, especially Virginia Tech Hokie fans to come on by for the big game! The bartenders make you feel right at home and greet you when you walk through the front door. No fancy digs here, just a true bar where conversation and the clientele matter. There's a patio for those nice days and evenings to relax with friends. Best part of this joint is that though it gets packed on weekends eleventy-hundred people aren't bumping into you!
Try it: Freshly squeezed orange crushes, refreshing!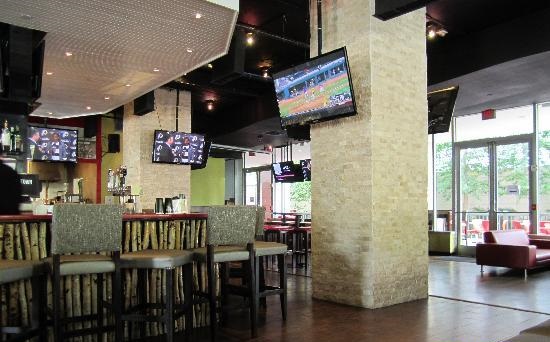 7. A-Town
4100 Fairfax Dr.
Arlington, VA 22203
www.a-townballston.com
Neighborhood: Ballston
A-Town is where the mature crowd comes out to play at night. The DJ is always on point and several flat screens surrounding the center bar add to the party ambiance showing music videos. This place is HUGE and they don't overcrowd it. The bartenders are fast, like Sonic the Hedge Hog fast, which is awesome, refreshing and we love it. This place also has an outdoor patio to get away from the everywhere dance floor and have some conversation with friends. A-Town is a big fan of the Washington Redskins and host game day viewing events weekly! Swing by for "Sunday Funday" and order a jumbo bottle of champagne for the table at brunch and stay for the game! See you there? Sounds good.
Try it: Pop bottles! A jumbo champagne bottle that is…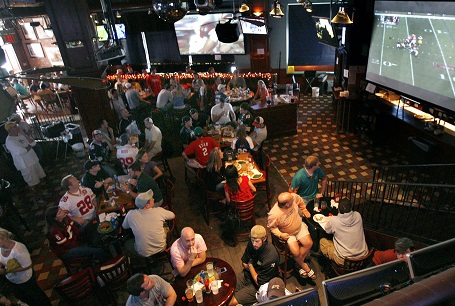 8. Mister Days
3100 Clarendon Blvd.
Arlington, VA
www.misterdays.com
Neighborhood: Clarendon
People like to party hard! Yup, this is an electric co-ed crowd who love their music loud and their disco ball a'twirlin'. On weekends around 11:00p.m. is when this sports bar sheds it high-top tables and rolls up their huge projector screen to make room for the high-energy dance floor. Having two levels is a plus for this pick. The top level allows for some conversation, boasts an extra bar for convenience and the opportunity to be Sherlock Holmes observing the dance floor. The female and male bartenders are attentive, attractive and know how to have a good time. Ladies, if you're looking for single men, Mister Days is your place for boy scouting. Plan on dancing the night away or fist pumping to the beat, Mister Days has you covered.
Try it: Chicken wings on game day while watching the game on the big screen projector!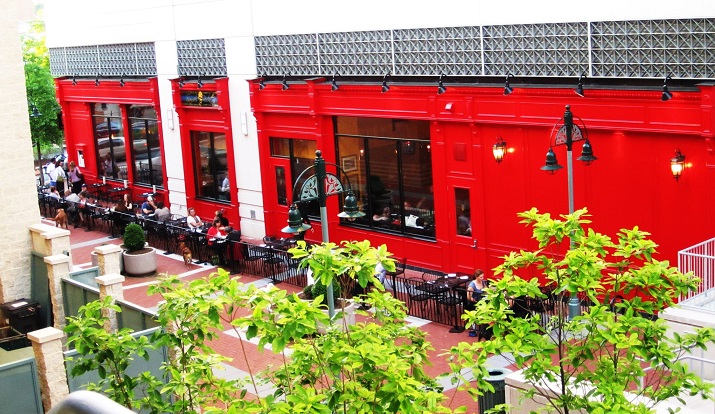 9. Samuel Beckett's Irish Gastro Pub
2800 S. Randolph St.
Arlington, VA 22206
www.samuelbecketts.com
Neighborhood: Shirlington Village
One thing that is clear Arlington knows how to do live music, which is no secret from our other picks on this list, and Samuel Beckett's Irish Gastro Pub in Shirlington Village in no different. Joining the old with the new, Beckett's menu and ambiance divine at maintaining the authenticity of the old Ireland but adding a modern twist. The bold red exterior catches your eye as you make your way into the main bar area. Its very open and has whimsical artifacts and paintings lining the wall, all telling a story of Ireland. This two level pub hopes to be a stepping stone to Ireland the only thing missing is the Blarney stone!
Try it: When in Ireland…Guinness! They've got the best pour in town.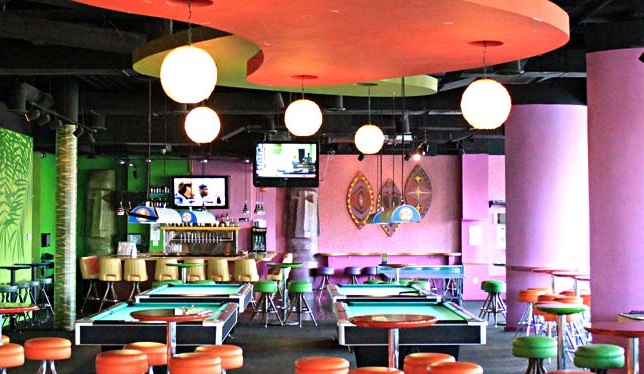 10. Continental Pool Lounge
1911 N. Fort Myer Drive
Arlington VA 22209
www.continentalpoollounge.com
Neighborhood: Rosslyn
For a pool hall Continental Pool Lounge sure is swanky! Attracting the after-work crowd for happy hour and a round or two of pool, shuffleboard or ping-pong really adds to the laid back appeal. The décor in this place eclectic from is multicolored walks and furnishings. Its like a scene out of Austin Powers. Groovy, baby.

Try it: Do work with skeeball and shuffleboard!
Go from Best Arlington Bars Right Now back to Project DC Events' homepage